This article may contain affiliate links for which we may receive a small commission if purchases are made through these links. We thank you for your support.
So you want to explore the Top End?
Do the Top End with our favourite 6 day Darwin to Kakadu road trip itinerary.  Jam-pack a short stay in the Top End and take home a swag of memories.
In the north of Australia, the Top End is famed for its balmy tropical weather, saltwater crocodiles, rich Indigenous culture, pristine National Parks and laid-back lifestyle. 
Darwin, the Territory's multicultural capital is the perfect hub from which to explore the Top End, including the World Heritage-listed Kakadu and Litchfield National Parks.
Darwin to Kakadu – Do the Top End in 6 days
[bctt tweet="See the best of the Top End of Australia with our 6 day Darwin to Kakadu road trip itinerary.  " username="aussie_mob"]
Dress down for the Top End
The Top End really does have the best winters in Australia!
Slow down, dress down.  The pace in the Top End has a 'no rush' feel about it.
The dress code is decidedly casual.  Shorts, Tshirts, thongs (of the footwear kind) will not be out of place.  You won't need winter wear but a light sweater might be useful if the breezes pick up once the sun goes down.
Day 1:  Explore Darwin City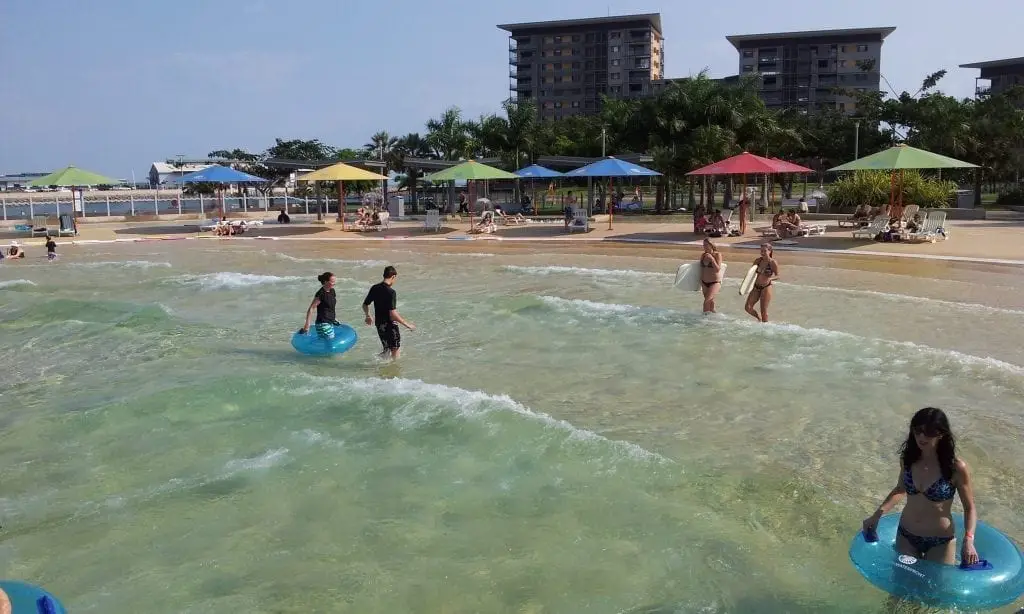 You've arrived.  Slow down and wind back the pace a little.
The Darwin Waterfront is just 5 minutes walk from the city centre and a great place relax and laze the morning away.
Explore the Waterfront
For your first stop we recommend you walk out onto Stokes Hill Wharf.  The Wharf is home to two iconic Territory stories which tell the Northern Territory's history.
The Royal Flying Doctor Service tells the story of how the RFDS was started, and the challenges it has endured over the years to maintain the service.
The Bombing of Darwin Experience is a modern new display using the latest virtual reality technology to transport you into the bombing of Darwin. Its an exceptional experience and one that shouldn't be missed.
Walk back to the Waterfront Precinct to enjoy lunch at one of the great restaurants, pubs & cafes or take a lazy swim in the Lagoon.  If you're feeling adventurous, take a dip in the Wave Pool.  It's croc free!
Do the East Point Museum Trail
After lunch, head out to East Point to spend some time in one of Darwin's war-time attractions.
East Point is also a wildlife sanctuary.  Don't be surprised if you see agile wallabies, goannas, frilled neck lizards and some beautiful bird life in the park.
The East Point War Museum tells the human story of the devastation and horror experienced by the during the bombing of Darwin in 1942.
A significant military installation during the World War II, many of the fortifications remain for you to wander through.
Experience a Top End sunset
Finish up your day in the tropics by catching one of our famous Top End sunsets at Mindil Markets (April to October).  Mindil Beach markets are famous in Darwin and popular with locals and visitors alike.  Be sure to sample the range of exotic market foods, enjoy live music and relax and enjoy our balmy winter weather.
Day 2:  Venture into Litchfield National Park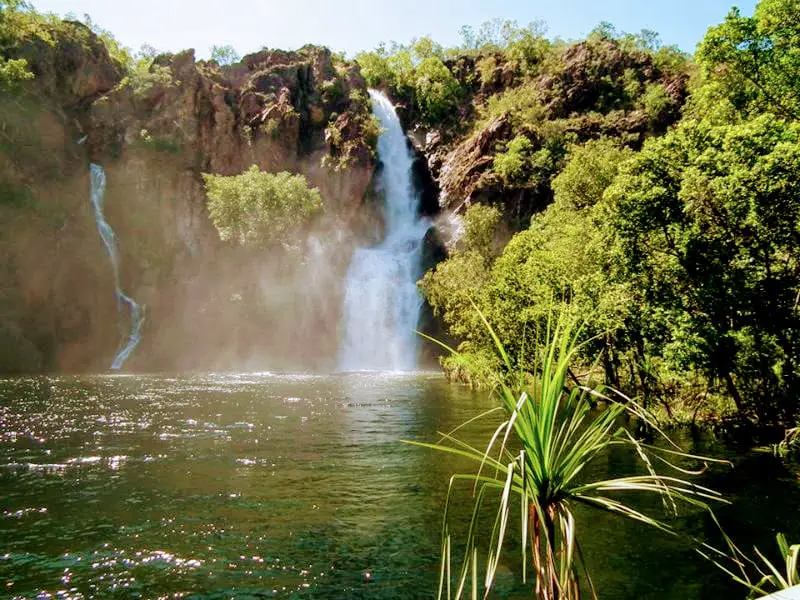 Just over an hour's drive from central Darwin you will find Litchfield National Park.  Drive yourself or take one of the many day tours and see some of the Top End's most unique scenery.
The monsoon rain-forest, stunning waterfalls, termite mounds, sandstone outcrops and historic ruins attract thousands of visitors each year.  Crystal clear swimming holes and bush-walking tracks are some of our favourite places in the Top End.
Make sure you visit in Litchfield National Park
Termite Mounds
Buley Rockhole
Florence Falls
Tolner Falls
Wangi Falls
You won't ever think of dipping your toes in the water after one of the Jumping Crocodile cruises!
If you have enough energy after a day at Litchfield, the Jumping Crocodile Cruises at Adelaide River are always good value.
Day 3: Darwin city Tours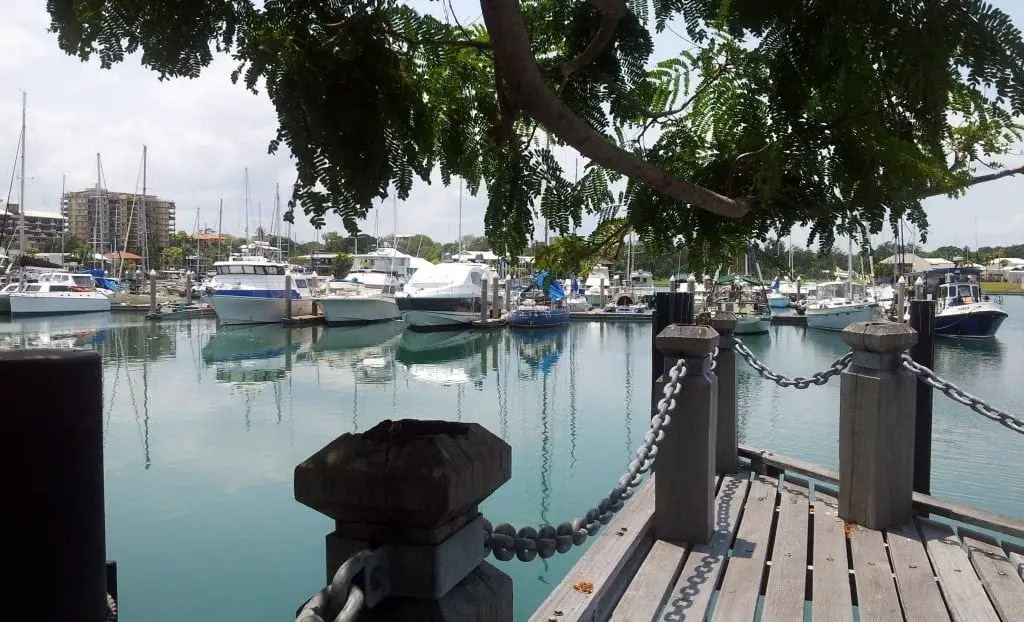 Get out and about in Darwin city for some Top End sightseeing.  There are plenty of tours available or take a walk through the city.
Breakfast at the Boatshed Cafe at Cullen Bay
Take an early morning walk along the Esplanade in the City
Check out the Street Art in Darwin City
Crocosaurus Cove is always an interesting place to visit.  Showcasing live crocodiles, hatchlings, the Cage of Death and full of interesting fun facts about this prehistoric creature and other Top End aquatic life.
Parap Markets
The Saturday morning ritual for locals is to visit Parap Markets for Mary's Laksa and a fresh fruit juice.
People have flocked to Parap Markets for over 20 years for a bowl of Mary's Laksa, you really must try it!  A spicy Malaysian soup made from Asian spices, chilli, candlenuts, and coconut milk, served over homemade rice noodles, lettuce and your choice of toppings.  Divine!
Choose to have dinner out at one of our favourite restaurants
Darwin Sailing Club: Enjoy our balmy tropical weather as you watch the sun go down over the horizon with an icy cold beverage.
Hanuman:  Darwin's best Thai restaurant.  Try the crispy whole snapper!
The Cav:  Best pub meal ever!  Start with Nam Jim Shots and follow it up with a fantastic Beef Wellington.
Day 4:  Darwin to Kakadu Road Trip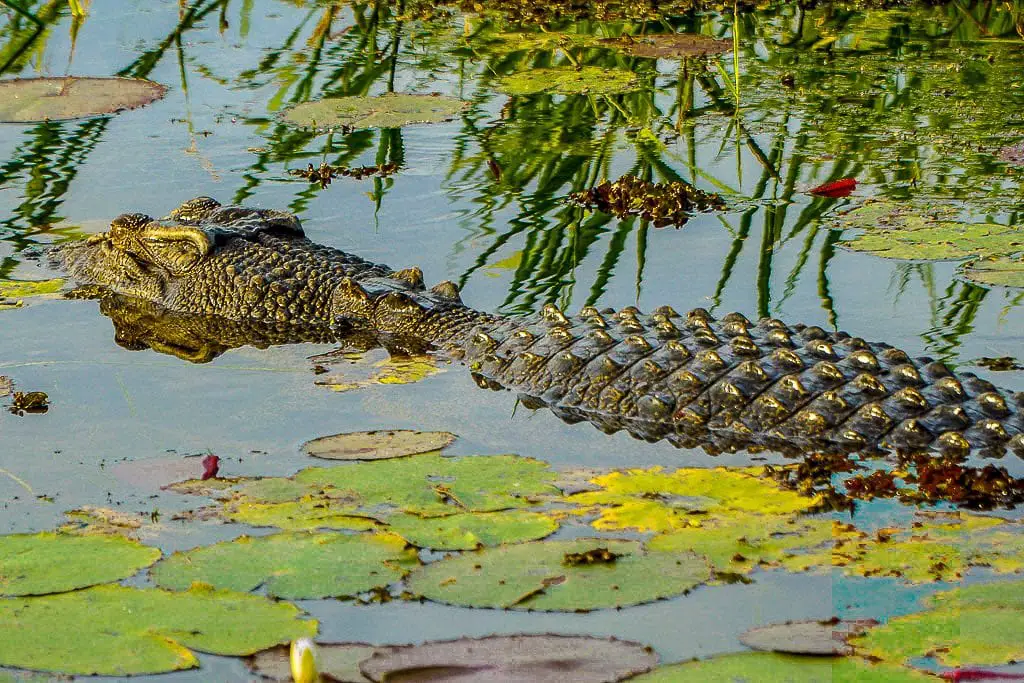 The 'must see' experience of the Top End!  Renowned internationally for its natural and cultural wonders, Kakadu has one of the highest concentrated areas of Aboriginal rock art sites in the world.
Leave Darwin early on your road trip to Kakadu and expect the road trip to take about 3 hours.  Pre-book accommodation (see below) before leaving Darwin and get ready for the adventure of your life!
Read more about Kakadu – experience it all.
Day 5: … more of Kakadu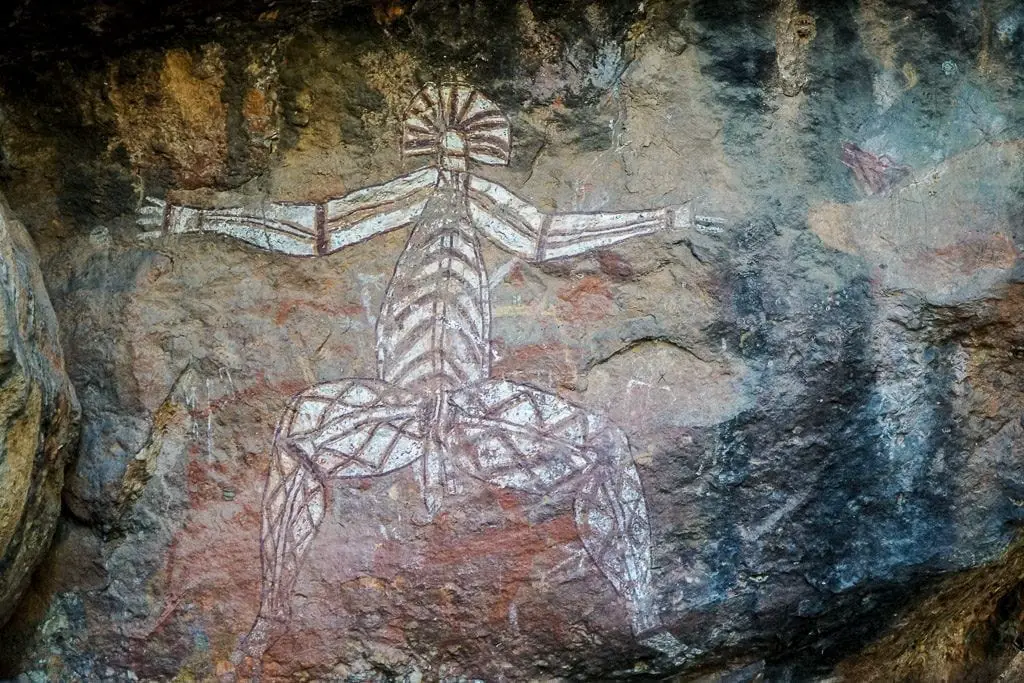 Visit Ubirr Rock at Sunrise for the experience of the day.
Take an Aboriginal cultural tour and learn about this ancient culture.
Enjoy lunch at Cooinda before driving back to Darwin.
Chill out at the Deckchair Cinema
Wrap up your fabulous week in the Top End with one of Darwin's favourite cinema experiences.  The Darwin Deckchair Cinema is one of the most unique experiences to be had in the Top End.   Its a unique outdoor cinema experience you won't want to miss.
Day 6:  Catch your breath
Visit Darwin Museum and take in a few of the exhibits before lunching at Saltwater Cafe along the beach front.
Don't miss these exhibits:
Cyclone Tracy display
Check out the Sweetheart (the crocodile) display
Aboriginal art and culture displays
Relax the afternoon away or catch up with anything you may have missed before heading to the airport on your way home!
5 Essential Items to get set for your Top End adventure
Where to stay in the Darwin
Where to stay in Kakadu
Pin this 'Top End' Itinerary for later …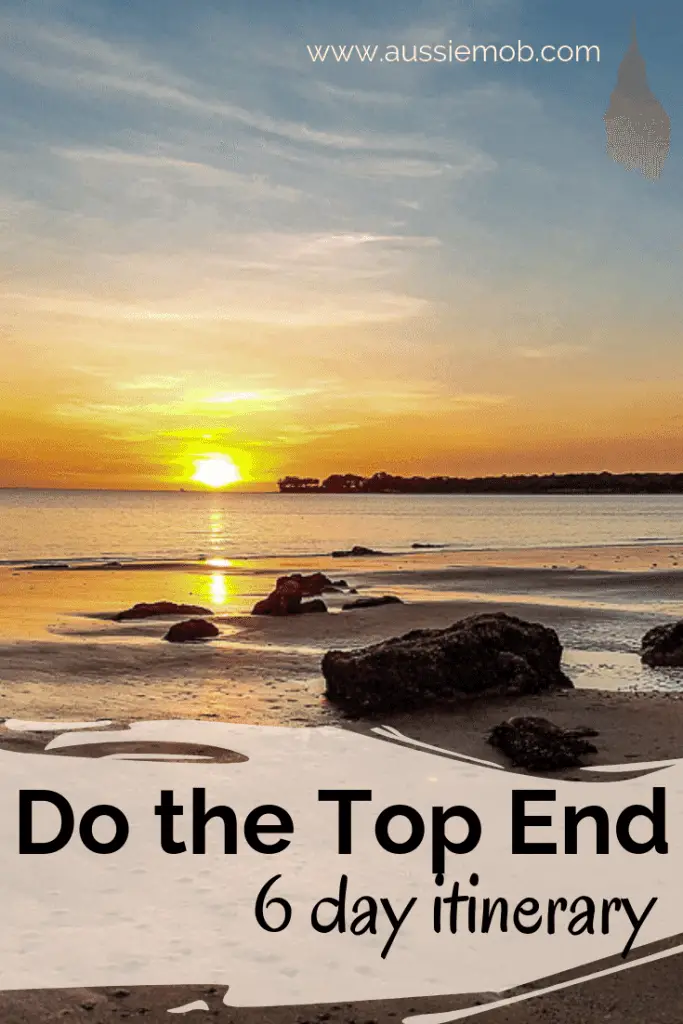 There's so much more to do in the Top End – be tempted to stay a little longer.
Enjoy your time visiting the Northern Territory, relax, chill out and unwind and get the most out of your stay with us. 
There's so much to see and do while you're here and we're sure you're going away with some fabulous stories.  Want to share?  Why not comment below and let everyone know how much fun you had.