Darwin to Adelaide is the best Aussie road trip
The drive from Darwin to Adelaide (or vice versa) is the best Aussie road trip ever.  Pack up your car, top up your petrol and hit the road for the adventure of a lifetime.
The Stuart Highway is just over 3000 kilometres and each town has its own unique appeal. 
Don't rush.  Take your time to experience absolutely everything on this amazing road trip!
You will encounter some of our unique Australian wildlife on your travels but the most memorable parts of your journey, will be the people you meet along the way.
Buckle up for the best Aussie road trip ever!
There's a sense of excitement when embarking a road trip into the great Australian Outback.
The drive from Darwin to Adelaide is an experience.  Long straight roads, wide expenses of nothingness between sparsely scattered fuel stops and quirky little towns. Not to mention the war memorabilia, roadside memorials, world heritage listed sites and old telegraph stations.
Nothing says adventure better a road trip with miles of stark landscape, broken fences, isolated rocky outcrops and rich red sand dunes.
The Northern Territory Roads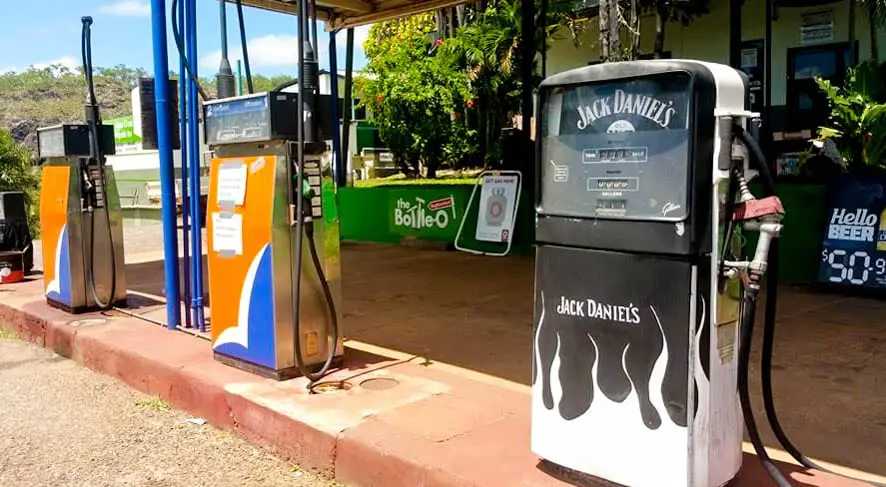 Be courteous on the roads.  Wave as you see other cars on the road, raise your finger in a 'hi how are ya going' kinda way.  Its a nice thing to do.
Don't be surprised to see cars speed past you like there's no tomorrow.  Road-trains will chug along at a competitive pace whilst grey-nomads head off in their caravans on their long awaited 'trip of a lifetime'.
Everyone is on a mission to be somewhere for the night – wherever that might be!
Northern Territory road conditions are generally very good with a top speed limit of 130 kilometres an hour on the open highway.  Our best advice is always "Drive at a speed you are comfortable with" and at all times, drive safely.
Read next: 10 Tips to Drive Safe on our Outback Roads.
Even the best Aussie road trip has rules
Rule 1:  Take plenty of music!  The driver chooses the music!
Rule 2:  Never contemplate a road trip with children without a window for each child.
Rule 3: Take snacks (snakes, jelly babies, packets of chips) and plenty of water.
Plan your Darwin to Adelaide Road Trip
As a marathon Aussie road trip between Darwin to Adelaide we advise that you take plenty of rest stops.  If you're not in a hurry, stop for a few days along the way to get the most out of your adventure.
To help your planning, we've identified the major stops and how long it takes to drive between them.  Where there is lots to see we've suggested a longer stay to get the most out of your holiday.
Plan your rest stops and make sure you take breaks along the way to prevent fatigue.
Darwin to Katherine – 3.5 hours drive time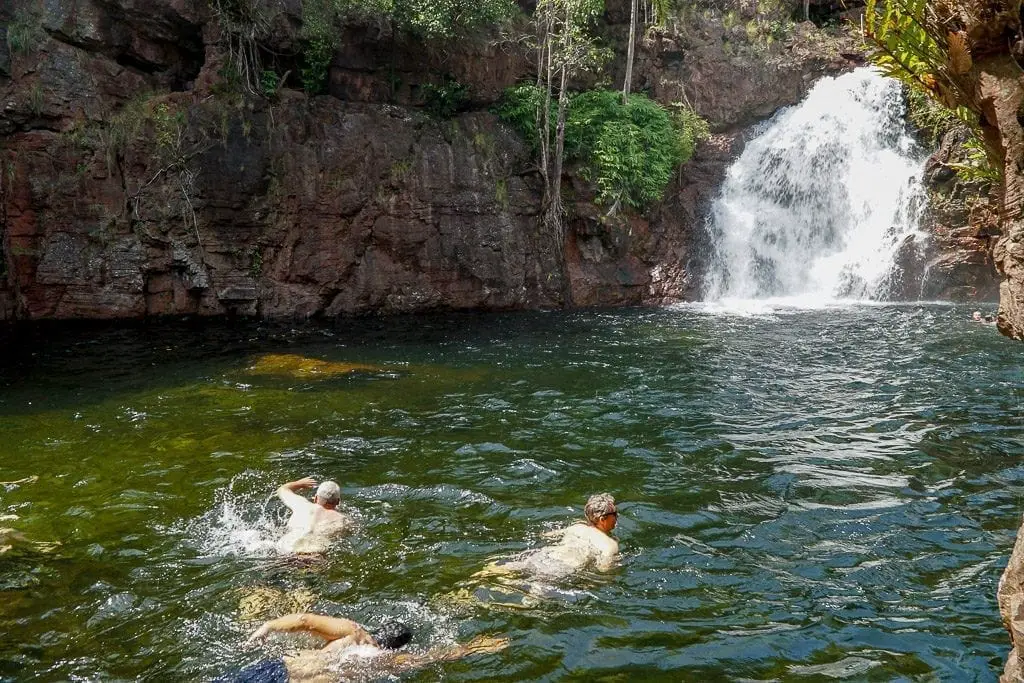 Litchfield National Park
At just over an hour from Darwin, Litchfield National Park is jam-packed with waterfalls and waterholes for lazing about in.  It's the place to go exploring by taking some of the gorgeous bushwalks or head off the beaten path on a four-wheel drive track.  You will see beautiful birds and an abundance of amazing wildlife.  Litchfield is great as a day trip or there are camping grounds if you want to stay longer.
Read more:   Why you must visit Litchfield National Park
Emerald Springs
Emerald Springs is much more than just a roadhouse.  The Bent Bull Bar and Grill in Emerald Springs is one of my favourite places to stop for breakfast!
Explore nearby Butterfly Gorge Nature Park (4×4 only) where you can spot butterflies, swim in the rock-pools or picnic at the base of the gorge.  Want to explore further?  Take the Northern Goldfields Loop via the heritage trail linking Pine Creek with Adelaide River.
Adelaide River
Adelaide River is a great place to stop for lunch.  The Adelaide River Hotel serves the best 'buffalo burgers' in the Territory.  It's also an opportunity to pay homage to 'Charlie the buffalo' the co-star in the infamous movie "Crocodile Dundee" with Paul Hogan.  Charlie is stuffed and the main attraction at the Adelaide River bar.
While you're at Adelaide River, visit Australia's only War Cemetery – others are war memorials.  This well kept cemetery is a sobering reminder of just how many Australian soldiers and civilians were tragically killed during the Bombing of Darwin and surrounding regions.
Pine Creek
Further south, the historical gold mining town of Pine Creek is a great little town to visit. Small gold finds are still found in the area which makes it a popular stop for fossickers so consider staying a few nights and trying your luck.  Check out the historical museum to learn more about the Pine Creek's gold rush days of the Northern Territory.
Edith Falls
Edith Falls (Leliyn) is one of the prettiest water falls and swimming holes in the area.  Stop off for a swim or if you have time, its a great place to spend a few days and chill out.  There are plenty of bush-walking trails and make sure you visit the secluded Sweetwater pool.
Read next:  6 Reasons why you must road trip to Katherine 
The township of Katherine – stay a few days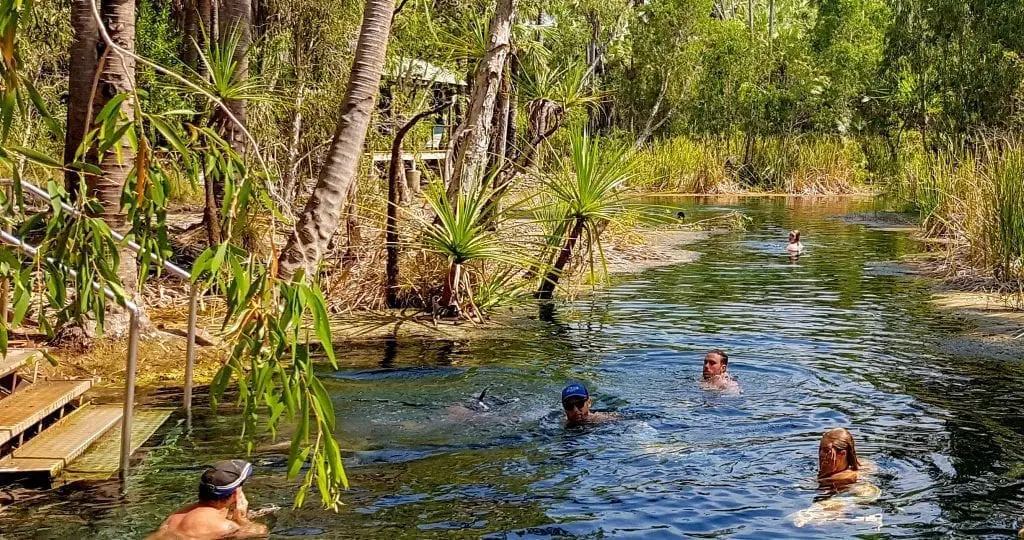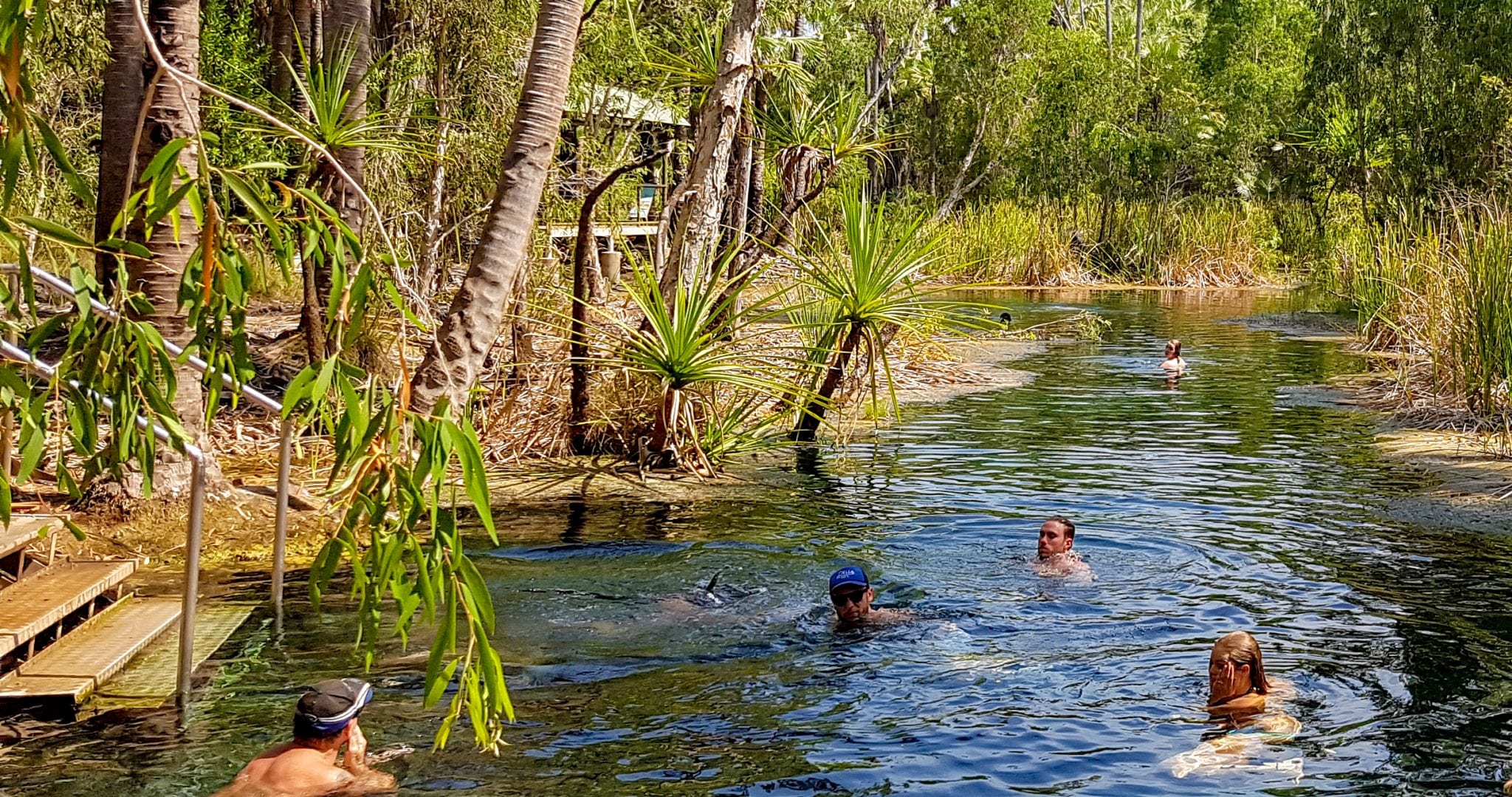 There is so much to see and do in Katherine it is well worth taking a few days break.  Katherine is a big country town just three hours drive south of Darwin and the gateway to the stunning Nitmiluk Gorge.
Where to stay in Katherine
Relax in the Katherine Hot Springs
Relax in the clear water of Katherine Hot Springs on the banks of the Katherine River. Walk up the viewing platform where you can see the source of the spring water.  The waters are an average temperature of 32 degrees all year round.
Visit Nitmiluk Gorge
Explore Nitmiluk Gorge which is also known as Katherine Gorge and take some of the spectacular bush walks that offer amazing views down the Katherine valley.
Take one of the cruises along the Katherine River or go canoeing in this amazing waterway.  Experience the varied and ever-changing landscapes, from dramatic cliffs and sandy beaches to pandanus-lined channels.  See some of the local wildlife including cockatoos, lizards, eagles and wallabies.
Don't forget to stop in at Nitmiluk Visitors Centre as it's a great source of history and information about the Katherine region.
Explore Cutta Cutta Caves
Approximately 30 kilometres south of Katherine, you will find one of Australia's only tropical limestone cave systems. Cutta Cutta Caves was formed millions of years ago and is home to a variety of native wildlife including the rare Ghost and Horseshoe bats.
About 170 species of birds have been recorded within the park, including the Hooded Parrot and the endangered Gouldian Finch.  Guided one-hour tours run daily during the dry season.
Bitter Springs & Mataranka
About 100 kilometres south of Katherine is Bitter Springs and Mataranka Hot Springs. These refreshing natural hot springs are a popular rest stop for weary travellers.  Soak in the warm turquoise water of the thermal pools surrounded by pandanus, paperbarks and palm forest.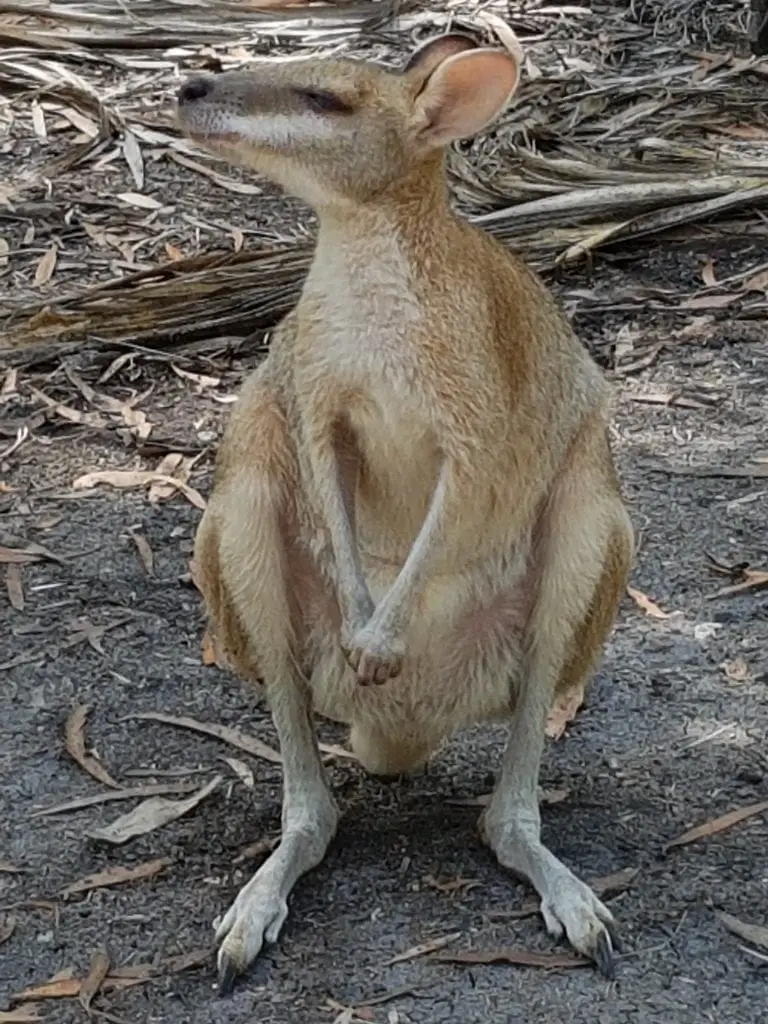 You will see plenty of Agile Wallabies lazing around nearby.
Elsey National Park
Elsey National Park is an hour's drive south of Katherine and best known as the setting for the Australian novel 'We of the Never Never.'   Mataranka is the land of the 'Never Never' made famous by Elsie Gunn who endured ongoing hardship by settling this untamed country.
Watch the "We of the Never Never" YouTube movie trailer to understand this strong woman as she settled into the challenges of the Northern Territory.   It's an incredible story of personal endurance and, based on a true story.
Katherine to Daly Waters – approximately 3 hours drive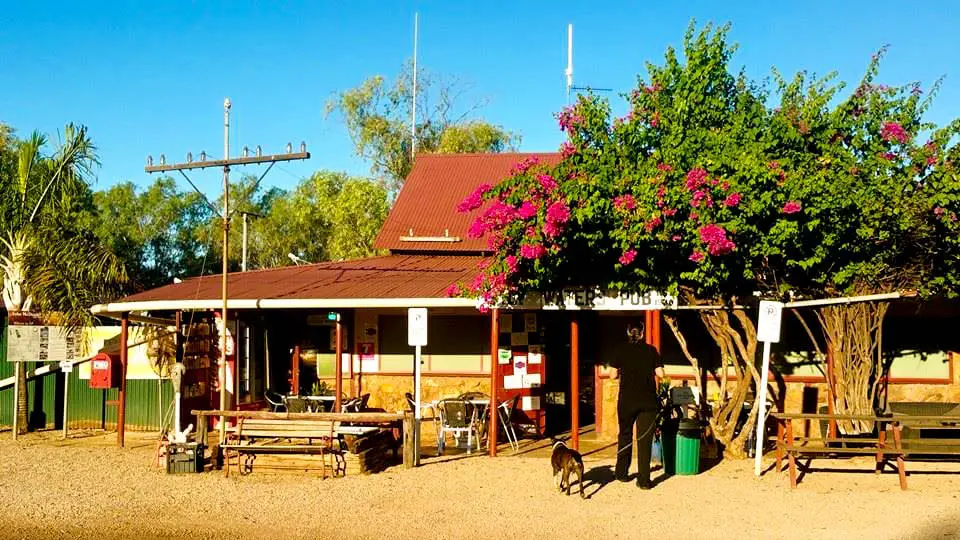 Daly Waters is one of those places everyone should visit at some time during their lifetime!
The Daly Waters Hotel is one of the best experiences on this long long road between Darwin and Adelaide.  If you have time, stop overnight.
It's a unique place stay with plenty of local characters to meet as you travel through.  The pub is decked out with travel memorabilia including bank notes from around the world, underwear hangs from the ceiling and other souvenirs.  If you're there in winter, the fireplace will be lit and travellers gather around and tell their tales.
Great steaks, cold beer, clean accommodation and good old fashioned friendly service with a touch of Territory quirkiness!  Don't miss it!
Daly Waters to Tennant Creek – approximately 5 hours drive
Heading south you will find a number of roadhouses along the highway which are always good spots to stop for a break.  Its a good idea to call in whenever you're passing through to support these local businesses in the middle of nowhere.
Dunmarra Wayside Inn is about 300 kilometres south of Katherine.  A roadhouse, caravan park and motel accommodation.
Elliott is the halfway point between Darwin and Alice Springs, 250 kilometres north of Tennant Creek.  On the outskirts of Newcastle Waters Station, Elliott has fuel and food available for travellers.
Renner Springs is one of my favourites.  Fresh home baked bread is not what you expect at this very remote little roadhouse!  Fuel, food and accommodation is available if you wish to take a break.
Tennant Creek is midway in the Northern Territory
It is approximately 8 hours drive south from Katherine, 5 hours north of Alice Springs.
The Queensland town of Mt Isa is about 7 hours to the east.
Tennant Creek is quirky little town and a good place to overnight, grab a bite to eat and refresh yourself ready for the next leg to Alice Springs (only approximately 5 more hours driving)!
A town settled in the Territory gold rush days, Tennant Creek is a close knit community and where you turn onto the Barkley Highway to head east to Queensland.
Read more:  All roads lead to Tennant Creek
Where to stay in Tennant Creek
Tennant Creek to Alice Springs –  approximately 5 hours drive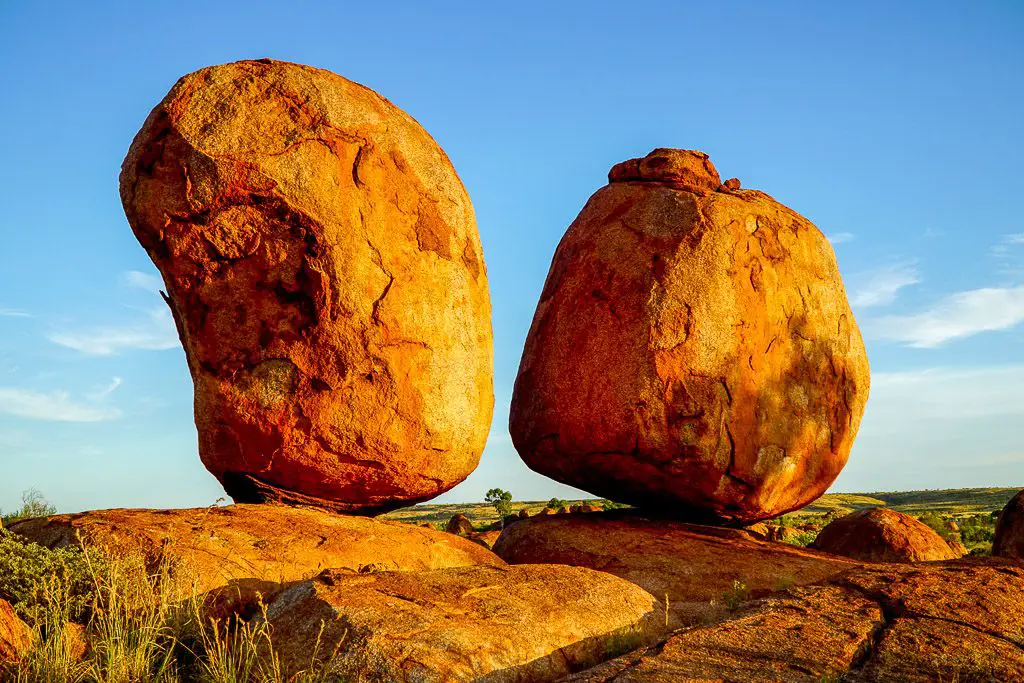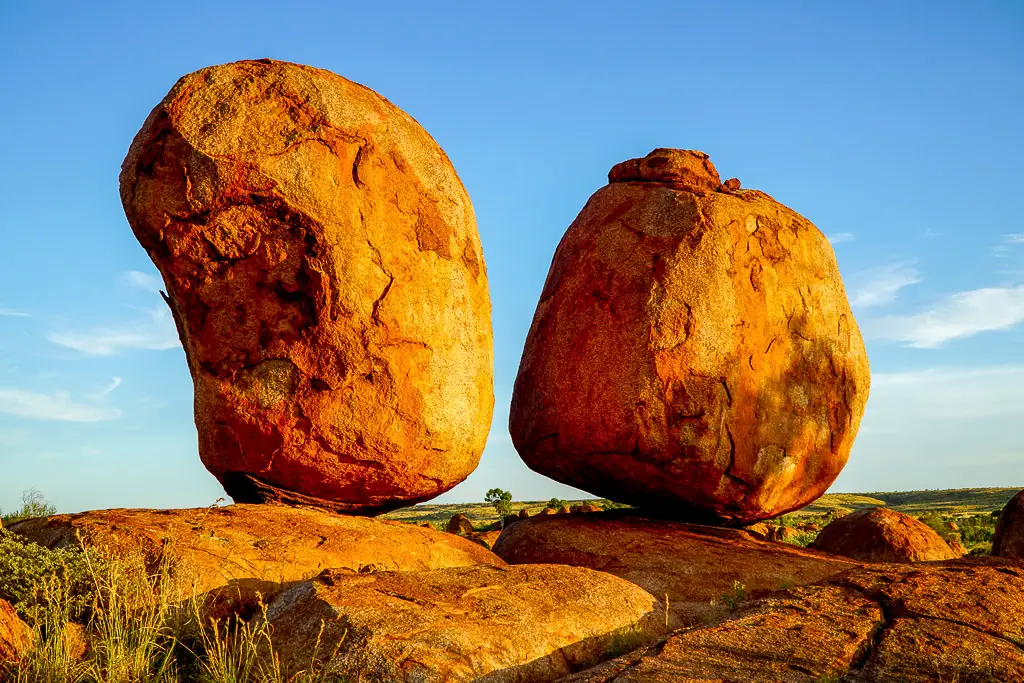 The Devils Marbles
The Devils Marbles is one of my favourite Australian icons.  Located right on the highway, the Marbles appear with almost no warning.  If you're travelling early morning, or late in the day, the golden glow of the sun on the rocks makes them an amazing vision.  I find it impossible not to stop and take a walk through these amazing piles of granite rocks every time I pass through.
This is a significant sacred Aboriginal site in the Northern Territory.  Karlu Karlu will take your breath away!
If you're looking for camping grounds with a difference, camp at the Devils Marbles, or head 20 minutes further south to the Devils Marbles Hotel.
Read next:  The Devils Marbles – the eggs of the Mythical Rainbow Serpent
Devils Marbles Hotel
On the southern edge of the National Park is the Devils Marbles Hotel – another great fuel, food and accommodation stop.
Wycliffe Well – the alien capital of the Northern Territory
Wycliffe Well claims to be the 'alien' capital of the Northern Territory.  A truly weird place! Good for a fuel, food and a camping ground!
Barrow Creek
Barrow Creek, the scenery is stark and it comes with it's own unresolved mysteries.  It is a roadside stop along highway offering fuel, kiosk, bar and accommodation.
Built in the 1930's, the Barrow Creek Hotel is of architectural and historical value and remains the earliest Hotel built between Alice Springs and Tennant Creek.
Ti Tree
Ti Tree Roadhouse offers fuel and basic provisions for travellers between Alice Springs and Tennant Creek. Fuel and food are available and it's the last chance to stretch your legs before you head towards Alice Springs.
Ti Tree is an unlikely agricultural centre producing significant crops of fruits and vegetables due to the abundant sunshine and huge underground water resources.
Aileron
Aileron is a roadhouse offering food, accommodation, supplies and fuel.  Just over an hour north of Alice Springs, Aileron is home to the giant figure of the 'Anmatjere Man'  (pronounced Am-mudge-a-rah).
In December 2005, this impressive 17 metre sculpture was placed to overlook Aileron and the surrounding hills.  In 2008 'Anmatjere Man' was joined by 'Anmatjere Woman and Child'.  Created by talented sculptor, Mark Egan.
Alice Springs – the Centre of the Outback – stay a while longer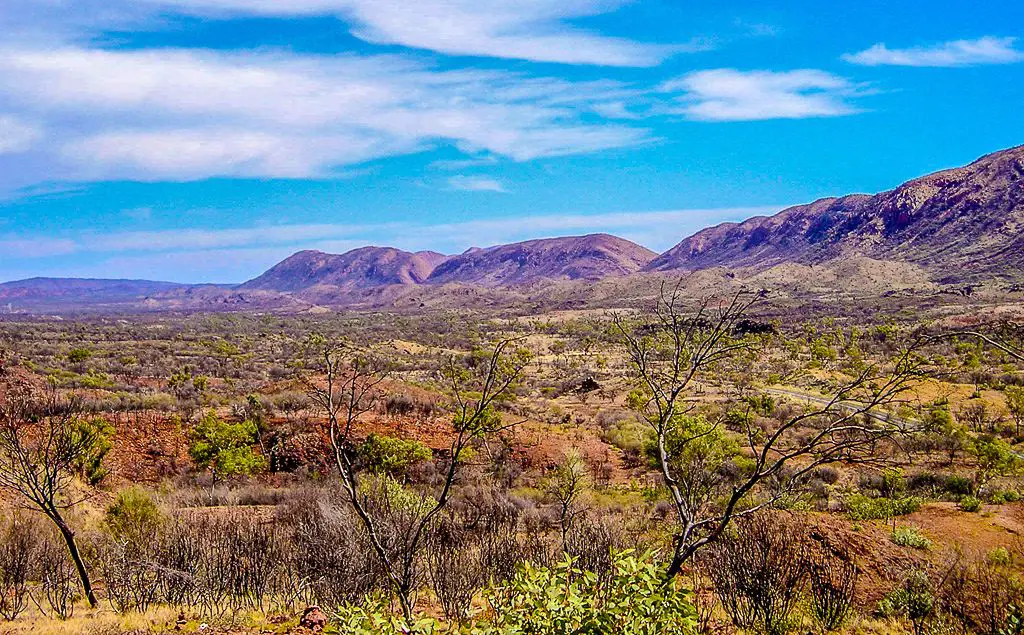 Alice Springs is about half way.   Take a break, its a beautiful place to visit.
It always reminds me of an oasis in the middle of the desert.  It's far more 'green' and lush than I had ever imagined.  Enjoy the contrasting colours of the beautiful landscape and the amazing wildlife.
Complete with caravan parks, hotels, restaurants and even a casino affectionately tagged 'the white house'.  Alice Springs is a lively art community with much to see and do.  Stay a while and enjoy the Red Centre.
Be warned:  It is rumoured that those who see the Todd flow 3 times will never leave.
The infamous Todd River flows right through the middle of town, but for most of the year it is a dry river bed.  When it does rain though, it turns into a major attraction for locals to 'watch the Todd come down'.
Read next:  Do the Red Centre Way – the real Australian Outback
Where to stay in Alice Springs
Alice Springs to Coober Pedy – approximately 7 hours drive
As you continue south from Alice Springs, it will take another 3 hours until you cross the border into South Australia and a further 4 hours driving before you arrive at Coober Pedy.
There are a number of spectacular landmarks that you really 'must' include on your trip so be prepared to add extra days to your itinerary to see them all.
Stuarts Well
Base yourself at Stuarts Well while you explore Rainbow Valley, the Henbury Craters and Chambers Pillar.  There's food, accommodation and fuel available and the Roadhouse boasts the best coffee along the highway!
Rainbow Valley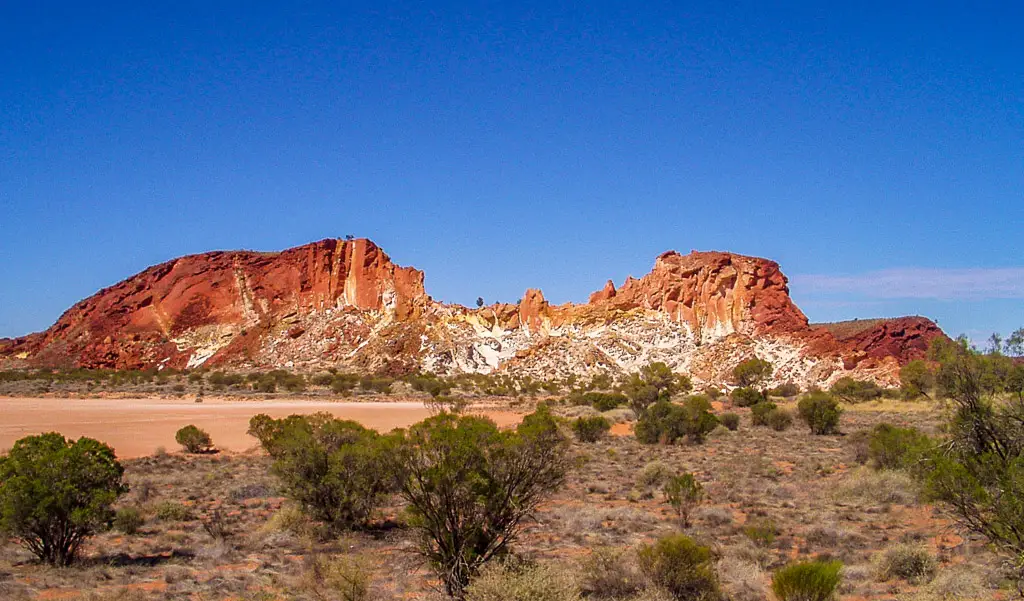 One of the most striking places I've ever been to.  Rainbow Valley, just 75 kilometres south of Alice Springs.  It is most spectacular in the early morning or late afternoon light – the golden hour!
Millions of years of wind and rain erosion have sculpted this bluff which is a significant and sacred site for the Arrernte clan of Central Australia.
The impressive sandstone rock structure changes from ochre red to orange and deep purples.  If you're lucky enough to visit when it rains you will be rewarded by the extraordinary rich colours and stunning reflections in the claypans at the base.
Rainbow Valley is best accessed with a four-wheel drive vehicle and is a great place to camp overnight under the stars.
Henbury Meteorite Craters
Henbury Meteorites Conservation Reserve contains 12 craters which were formed when a meteor hit the earth's surface 4,700 years ago. The Henbury Meteor, weighing several tonnes and accelerating to over 40,000 km per hour, disintegrated before impact and the fragments formed the craters.
The craters are fascinating and provide natural, cultural and scientific value and well worth visiting.  Two-wheel drive access is available to visit the Henbury Meteorite Craters.
Chambers Pillar
Chambers Pillar is off the Darwin to Adelaide highway a little but worth the detour.   This magnificent structure is about 160 kilometres from Alice Springs on the road through to the Simpsons Desert.
Chambers Pillar stands tall as a spectacular sandstone column towering some 50 metres above ground.
The local Aboriginal people believe that the pillar is the Gecko ancestor Itirkawara. Banished for taking a wife from the wrong skin group, he retreated into the desert. When they stop to rest they turned into prominent rocky formations – Itirkawara into the Pillar, and the woman into Castle Rock 500m to the north-east.
Access is via four-wheel drive only. Camping is permitted but you must bring your own firewood.  Guided Ranger talks are held May to September.
If you're visiting Uluru – turn right at Erldunda
Erldunda
Erldunda Roadhouse marks the intersection to turn off onto Lassiters Highway — the road to Uluru (Ayres Rock), Kata Tjuta (the Olgas), Kings Canyon and Mount Conner. Make sure these destinations are on your Aussie road trip bucket list.
Take a break, stay the night or have a meal along the way.  Fuel, food and accommodation is available.
Cross the border into South Australia
Heading south on your road trip from Darwin to Adelaide, stop at these roadhouses on your way through for food, fuel and accommodation.
Kulgara Roadhouse – the last pub (or first) in the Northern Territory
Marla Travellers Rest – the first (or last) pub in South Australia
Coober Pedy – extend your stay to look around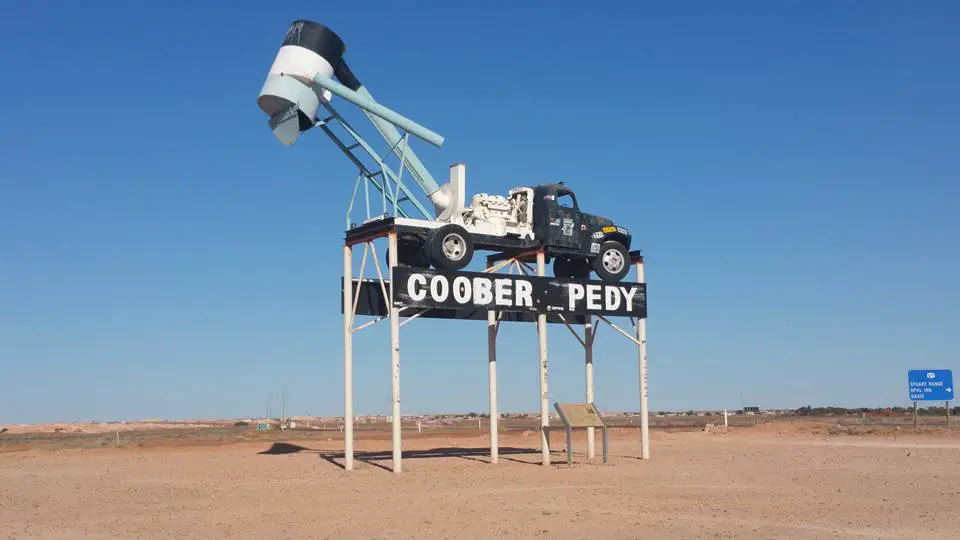 Coober Pedy is another quirky town with a population of 3,500 where more than half the town lives underground.  Known as the Opal capital of the world, Coober Pedy is quite possibly the most unique town in Australia!
There's lots to see and do in Coober Pedy.
Try your hand at 'noodling' for opals.
Play a round of night golf.   Its too hot to play during the daytime on Australia's only 'grass free' golf course.
Take a local 'dugout' tour and see inside an underground home home (some are more like mansions), underground churches, 4 star hotels and art galleries.
Take a self-guided tour through the historic Old Timers Mine which was hand dug in 1916.
Coober Pedy is where we overnight when heading south.  For the ultimate underground experience check in at one of the 'underground' hotels.  You will sleep like a baby!

Where to stay in Coober Pedy
Coober Pedy to Port Augusta – approximately 5.5 hours driving
Glendambo
By the time you make it to Glendambo you're likely to be well and truly over the Darwin to Adelaide adventure!
Stop in at Glendambo Roadhouse for a truckie style breakfast.  The coffee is terrible, but the breakfast is great!  It a good time to fuel up and stretch your legs before continuing south on your journey.
Lake Hart
The Stuart highway passes along the edge of Lake Hart around 700 kilometres north of Adelaide.  As the lake waters evaporate, vast deposits of salt are exposed.  Lake Hart has a catchment area stretching across South Australia, the Northern Territory and Queensland and is a stark reminder of the harsh Australian outback.
In flood, the lake is a stunning vision with huge numbers of waterbirds flocking to the lake.  The usually stark landscape comes to life with the rich colours of native wildflowers.  This is a place were sunset photography can be magnificent.
Pimba
Call in at Spud's Roadhouse at Pimba for your next stop.  Pimba is the gateway to Roxby Downs (mining town) & Woomera (remembered for it's nuclear tests in the 1940's).  Stop in at the information centre to have a look at this pretty outback town.
The Flinders Ranges
The vast open spaces of the Flinders Ranges are an impressive sight.  The Flinders ranges stretch along the Birdsville Track, the Oodnadatta Track and along the edge of the Simpson Desert.  These are the historical journeys of Australia's early pioneers and other great road trips to put on your Aussie bucket list.
Climb the amazing rock formation at Wilpena Pound.   Wildflowers are abundant in the spring and the colours of the ranges really will take your breath away.
Port Augusta
Port Augusta is sleepy little town 3 hours north of Adelaide and the crossroads to Western Australia.
TURN LEFT TO ADELAIDE
OR RIGHT TO HEAD TO THE WEST
Take a break, refuel, refresh and relax with plenty of accommodation options and great pub meals.
The home of renewable energy sources for South Australia,  Port Augusta has replaced coal power generation with solar and wind farms which you will see on the skyline as you pass through.
Where to stay in Port Augusta
Port Augusta to Adelaide – approximately 3.5 hours
Heading south from Port Augusta, turn off at Horricks Pass across the iconic Flinders Ranges to take the scenic route to Adelaide through the Clare Valley wine region.
It's a great opportunity to get off the main highway and explore some lovely boutique wineries, bed and breakfasts and exceptional restaurants.
Adelaide – South Australia's capital city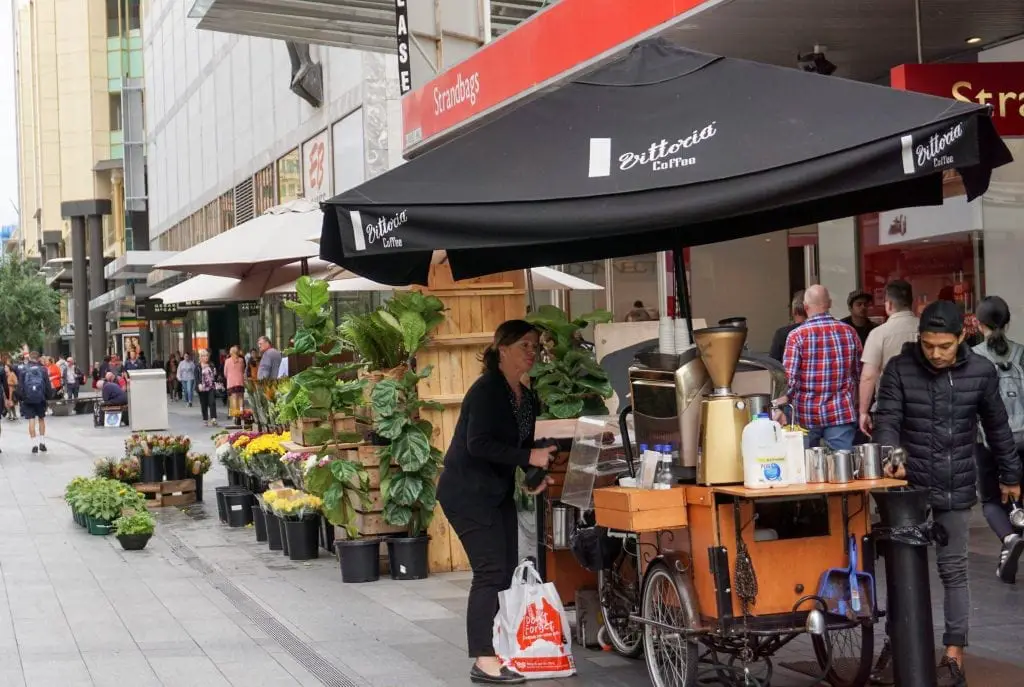 Yea you've arrived!  Its a long drive from Darwin to Adelaide but you've covered some of the most magnificent country that the Australian Outback has to offer.
Bursting with culture, entertainment and festivals and events Adelaide has some of Australia's best award-winning restaurants in the heart of the city.
Adelaide is a gateway to some of Australia's best wine country and is loaded with historic buildings, lush parklands and stunning botanic gardens.
Want to see more:   The ultimate city guide to Adelaide 
Where to stay in Adelaide

Are you inspired to do a road trip from Darwin to Adelaide?  Pin this for later.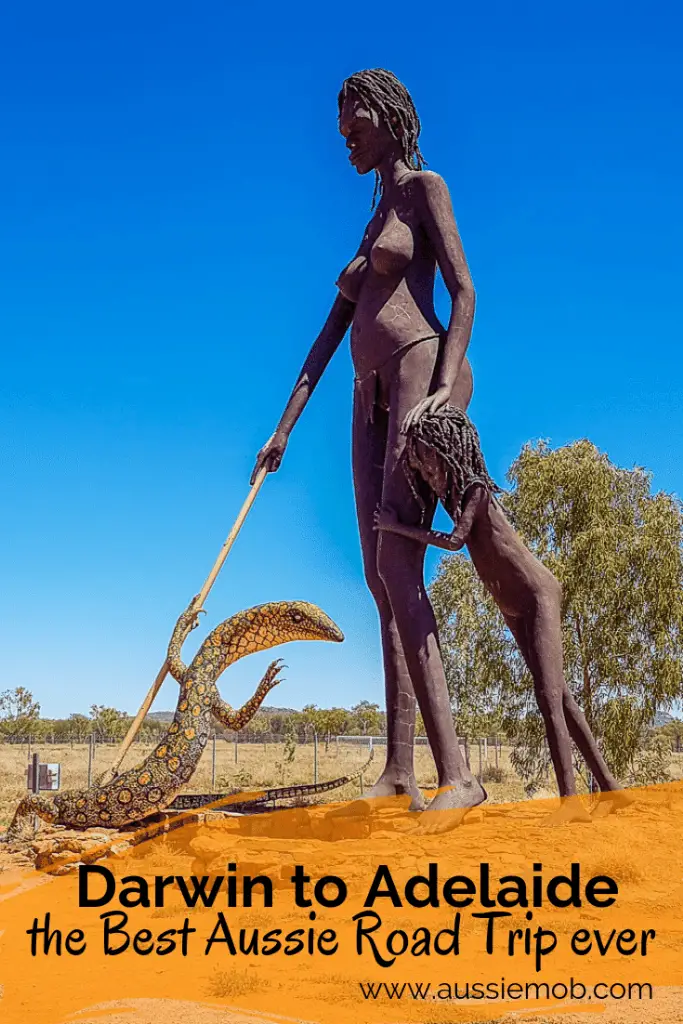 Take the the time to drive from Darwin to Adelaide.   It really is the Best Aussie Road Trip through some of the most stunning scenery and quirky little towns in Australia.
Enjoy this unique road trip between Darwin and Adelaide.  It's unique and a great opportunity to see the outback.   I'd love to know where was your most memorable stop along the way … why not drop us a note below?