What to see and do in Singapore
Are you wondering what to do when visiting Singapore?  Check out our list of things to do in this amazing city and start building your itinerary to get the most out of your stay.
Discover amazing food, fabulous shopping, buzzing nightlife and the ethnic neighborhoods.  These are the things that make this city one of the most exciting in Asia.
Singapore is a city,
an island
and a country.
Singapore is one of my all-time favourite cities in Asia and it's easy to see why it is the perfect travel destination.
Singapore History and Culture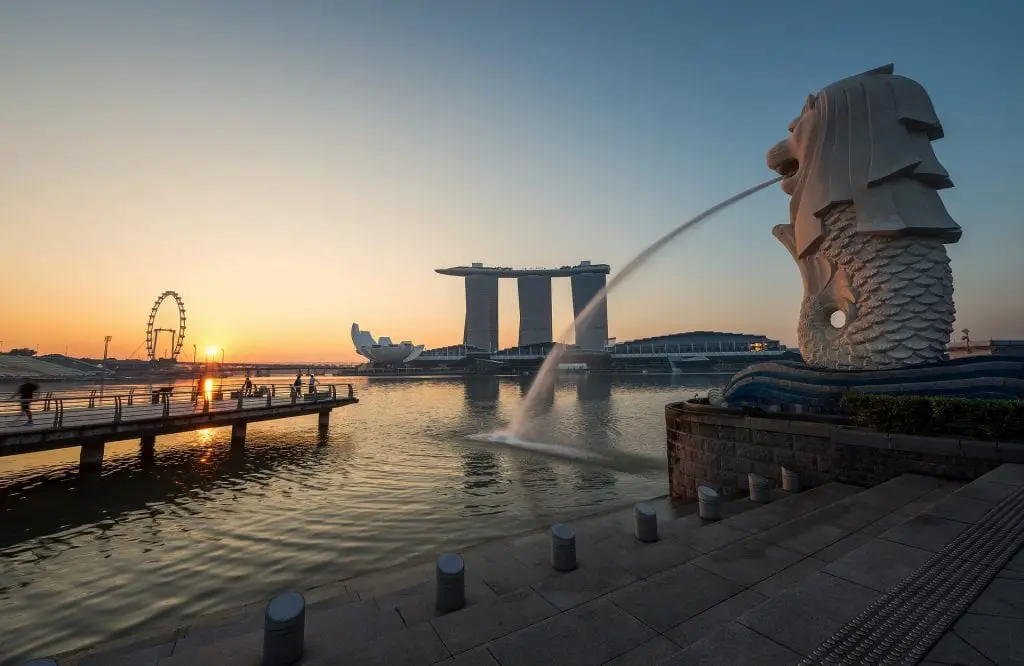 Steeped in history, this bustling city was once famed for its seedy reputation but the days of it's shady past are long gone. Today, Singapore is a respected leader in world markets and boasts being one of the cleanest cities in the world.
Singapore is a diverse and harmonious nation and is frequently described as a country where "East meets West".  Wander through the historical quays along the Singapore River.  Explore the old Malay quarter of Kampong Glam or shop in Little India to get a sense of harmony in Singapore.
Old meets new with skyscrapers such as the Marina Bay Sands.  Visit the luxurious colonial hotels such as Hotel Fort Canning or the infamous Raffles Hotel, if only for an authentic Singapore Sling.
Relax and enjoy the best of Singapore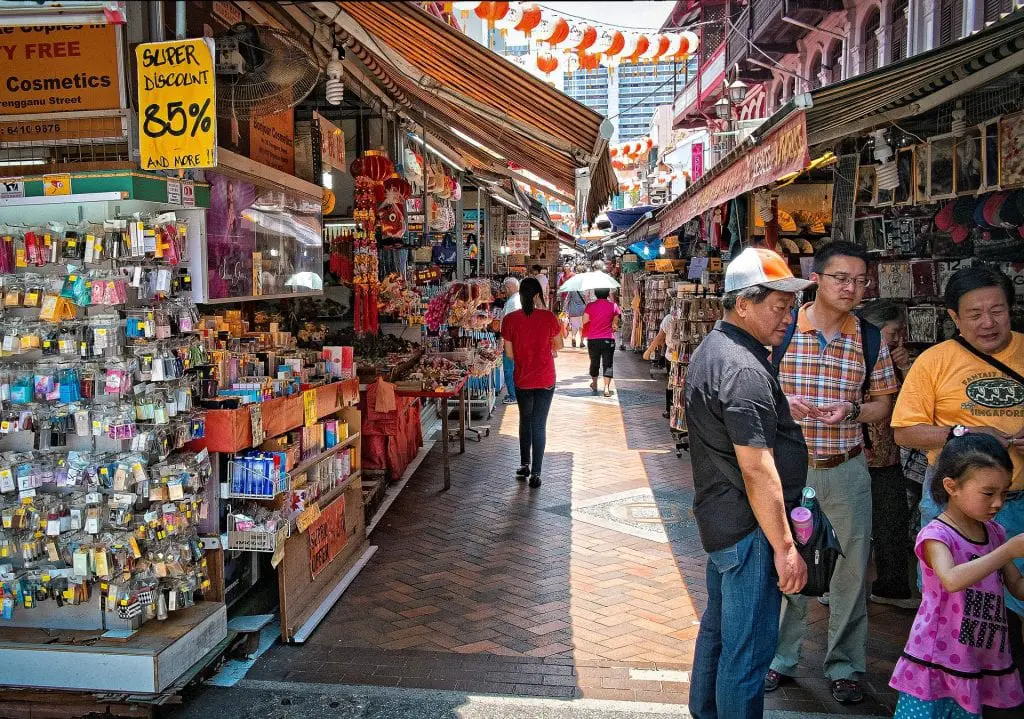 Singapore is the place to Shop 'til you Drop
Known for its luxury hotels and casinos and shopping malls.  Many hotels are linked underground by huge shopping malls so be aware you could start shopping and end up miles from where you started!
Visit the precincts of Chinatown, Little India, Clarke Quay, Changi Village and the East Coast or the well-known Chinatown.  Each have their own charm.
If you're visiting mid-year, you will find yourself in amidst of the island-wide 'Great Singapore Sale'.  Massive shopping complexes stretch far and wide underground the high-rise towers and you can literally shop until you drop.
Orchard Road
Head to Orchard Road for some of the best fashion and lifestyle shopping. If you're looking for luxury brands, stylish labels or trendy fashion icons, Orchard Road is the place to go.
World-famous for it's shopping, Orchard Road will do some serious damage to your credit card!
Chinatown
Chinatown is one of Singapore's most interesting precincts.  It's full of fragrant cuisine, vibrant colours and is bustling with activity.  The Street Markets capture the essence of Chinatown and where you will find beautiful antiques, tailored suits, modern 'oriental' home-wares and cheap T shirts.  Remember to haggle with a smile if you want the best price.
Kampong Glam
The Old Arab quarterof Kampong Glam is Singapore's Malay and Islamic-influenced area.  One of the city's most colourful street, the Old Arab quarter is home to a number of attractions including the golden-domed Sultan Mosque and Haji Lane.  Arab Street is where you will find rattan mats and baskets and handmade traditional perfumes and embroidered silks, sarongs and tailors.
Little India
Little India is one of Singapore's most vibrant precincts.  Explore their mix of Hindu and Chinese temples, mosques and churches.  Shop for Saris, glass bead bracelets, carved furnishings, religious art and beautiful Indian wall hangings. The 24-hour shopping mall Mustafa Centre offers everything from electronics to groceries.
Enjoy Singapore's Parks and Gardens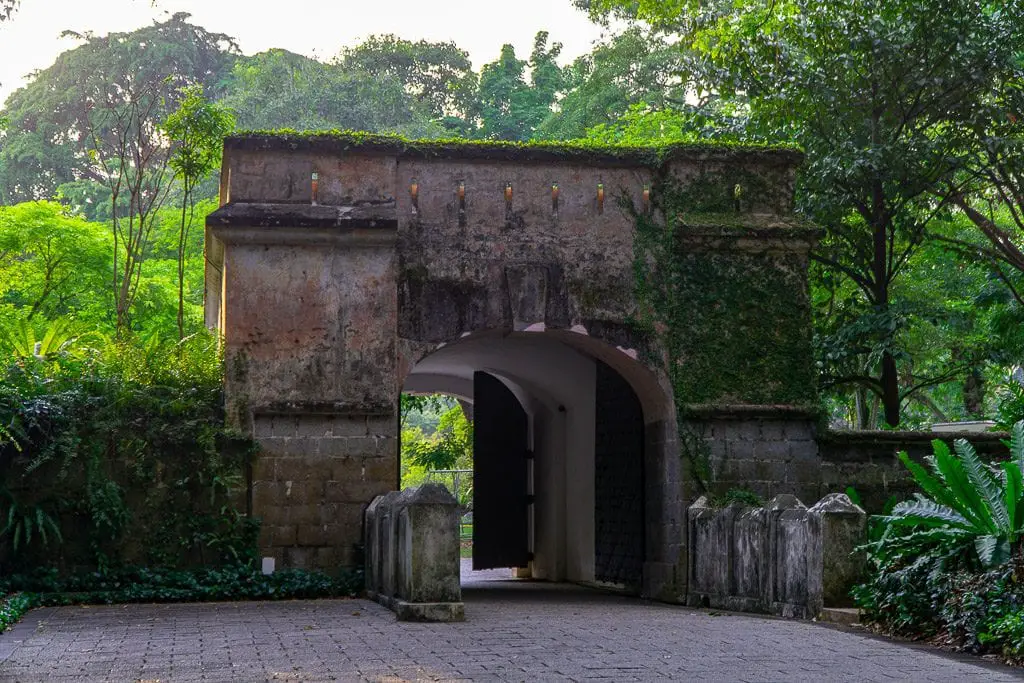 Take an early morning walk on Cannon Hill Fort
Canning Hill Fort was originally known as Bukit Larangan, or 'Forbidden Hill' in Malay. The Fort Gate is the remnants of a fortress built built in the 19th Century.
Today the hill features an atmospheric museum, The Battlebox, that tells the story of what's considered to be "the worst disaster and largest capitulation in British military history."   Battlebox was a British underground command centre during WWII and its eerie subterranean rooms to re-enact scenes from war.  Access is by guided tour only with professional guides talk you through Fort Canning Hill's 700-year history.
Today, the 18-hectare space is full of ancient artifacts to sprawling lawns which are often used for outdoor concerts.
Explore the Gardens by the Bay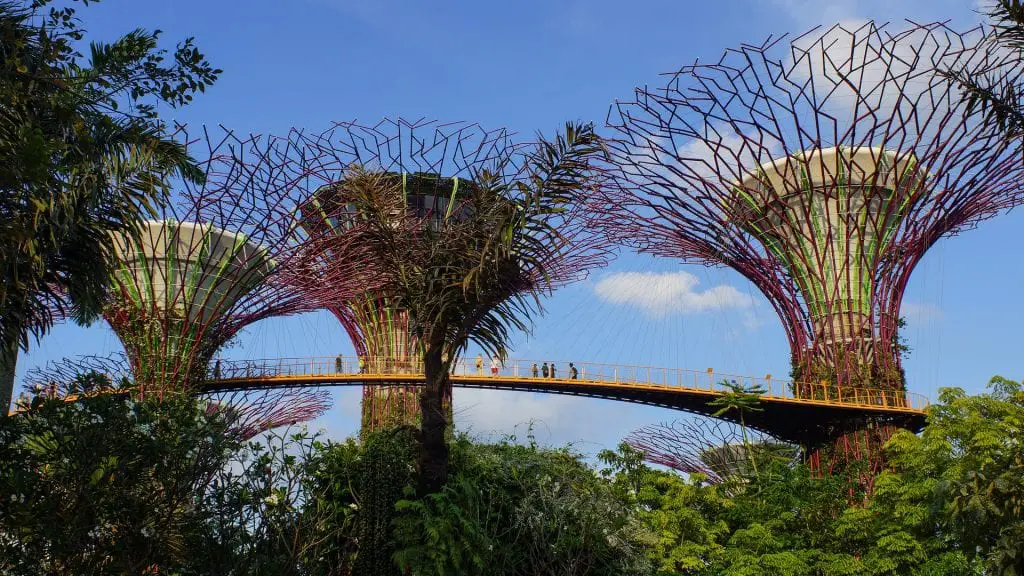 The Gardens by the Bay is the newest addition to Singapore's green space.  A futuristic botanical garden with Supertrees and biodomes.  See the Cooled Conservatories, towering Vertical gardens, the Cloud Forest, the Forest Dome or hop on a Garden Cruiser tram for a guided tour of the gardens.
The gardens come alive in the evening so its an opportunity to time your visit for the evening light show.  If you want a birds-eye view of the evening show, take a vantage point up on the Skydeck at the nearby Marina Sands Hotel.
Beautiful Singapore Botanic Gardens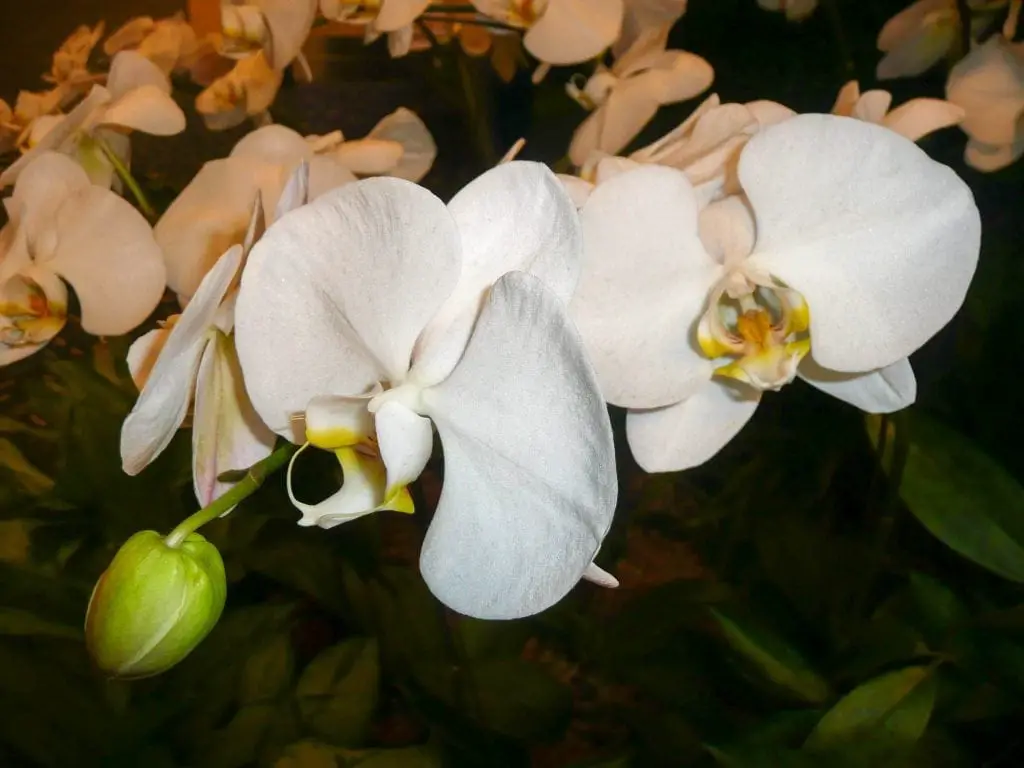 Don't miss the UNESCO world heritage listed Singapore Botanic Gardens.  These botanical gardens are a favourite park for jogging, picnics or just lazing about. Enjoy the restaurants and cafes in the gardens after taking in the fresh air and sunshine.
Visit the National Orchid Garden, one of the highlights of the botanical gardens boasting the world's largest orchid display, with over 60,000 plants and orchids.
Take the kids to the Jacob Ballas Children's Garden where they can play and learn all about plant life.
Singapore's Zoos and Theme Parks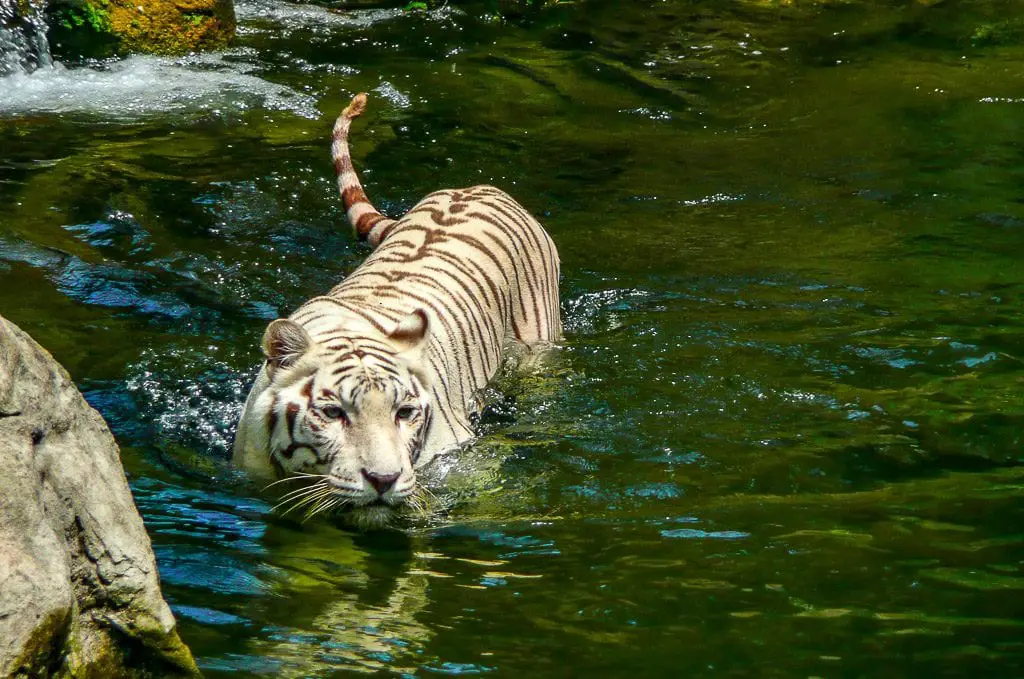 Singapore Zoo
The zoo is for big kids too!   One of the world's best zoos, the Singapore Zoo features natural habitats separating the animals with innovative animal enclosures and surrounds such as moats, rocky outcrops and thick bushy hedges.  The animals roam free in their natural habitats.  Be sure to breakfast with the Orangutans!
The Night Safari
The Night Safari is a unique tour bringing out the nocturnal animals and not to be missed.  Singapore Zoo offers this wonderfully eerie experience.  Wander through the fragrant tropical jungle to see the nocturnal creatures close up.  See fascinating creatures such as the endangered Asian elephant, Malayan tapir and Malayan tiger.  Make sure you put this adventure tour on your list!
Jurong Bird Park
One of the most spectacular bird habitats, Jurong Bird Park has a collection of over 5,000 birds from 400 species in spectacular flight aviaries.  Wander through the Waterfall Aviary, before heading into the world's largest walk-in flight aviary which is over nine stories high.  All with many species of colourful and rare birds.  Its a great day out for families with a love of nature, and there is an opportunity to Lunch with Parrots.
Haw Par Villa
The original Singaporean theme park is Haw Par Villa is 'not your traditional theme park'. Embark on a tour of the world's only eclectic Chinese mythological park of its kind.  Be warned ... Haw Par Villa is not for the feint hearted!
Visit Sentosa Island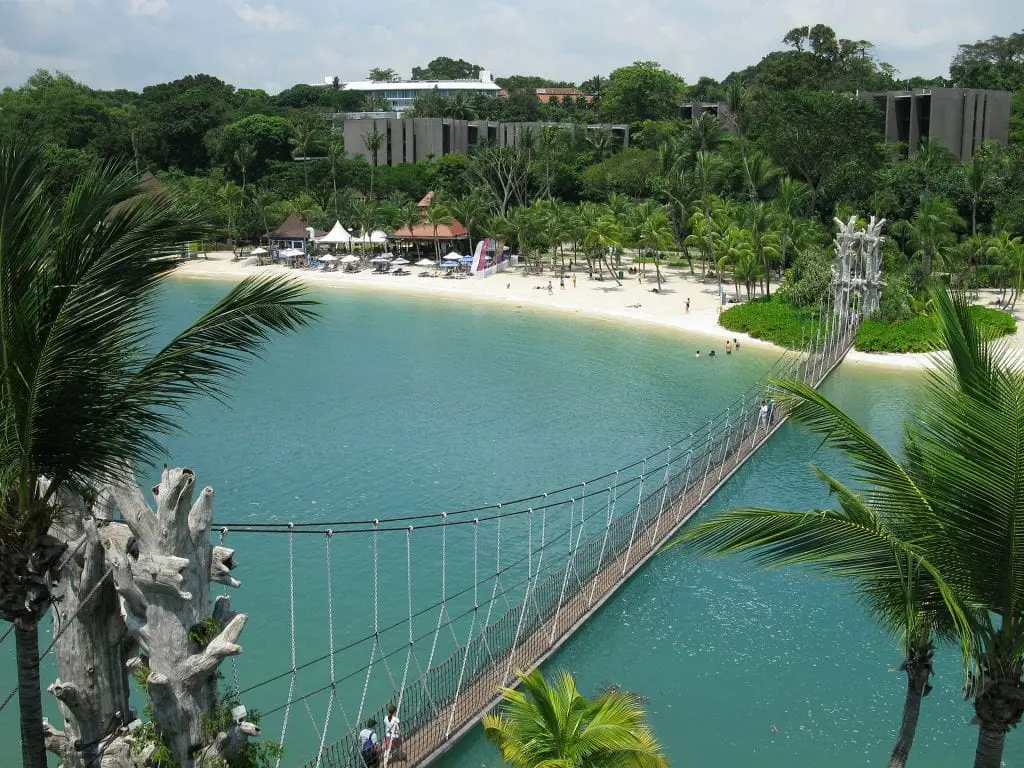 Enjoy some tropical island fun by heading to Sentosa Island for the day. Travel over on the cable-car and take the monorail around the island as you explore the attractions.
Visit Underwater World and Adventure Cove Waterpark before taking the ferry back to the main island or book a room for the night and continue the fun.  Thrill-seekers will enjoy Sentosa Island's theme parks such as Universal Studios Singapore and Wild Wild Wet.
What else is there to do in Singapore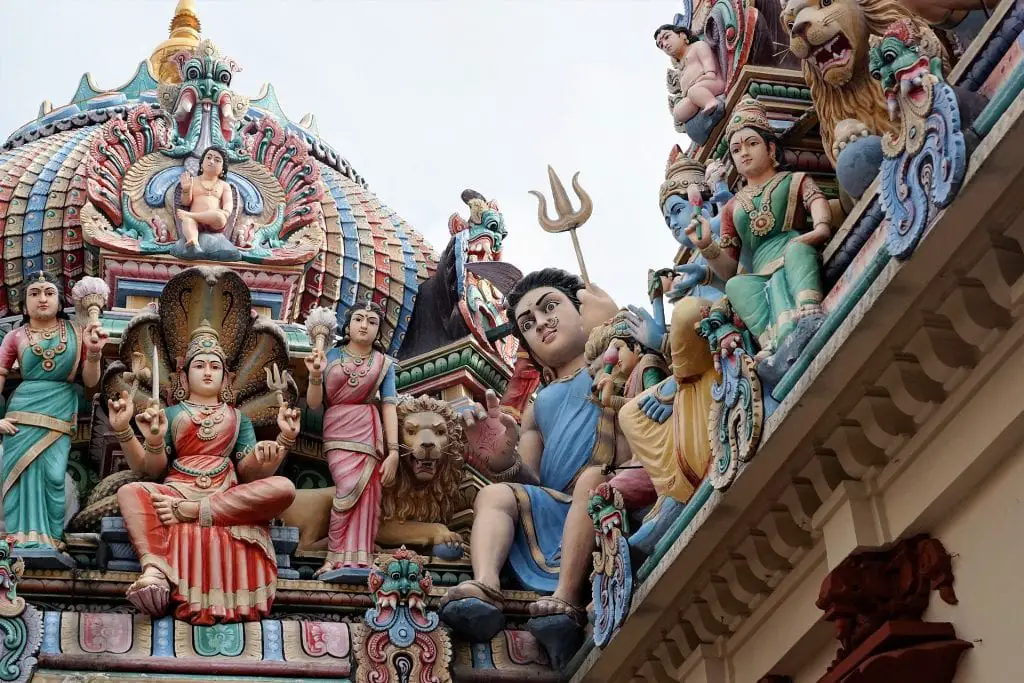 Visit the Sri Mariamman Temple
Chinatown is home to the oldest Hindu temple in Singapore, the Sri Mariamman Temple.  Dating back to 1827, the original structure was built by immigrants from the Nagapatnam and Cuddalore districts of South India.
Covered with ornate and elaborate sculptures of deities and mythological figures, this temple is dedicated to the goddess Mariamman.  She is known for her power to cure illnesses and diseases and has been a landmark for generations of Hindu worshippers and Singaporeans.
Wander down Clarke Quay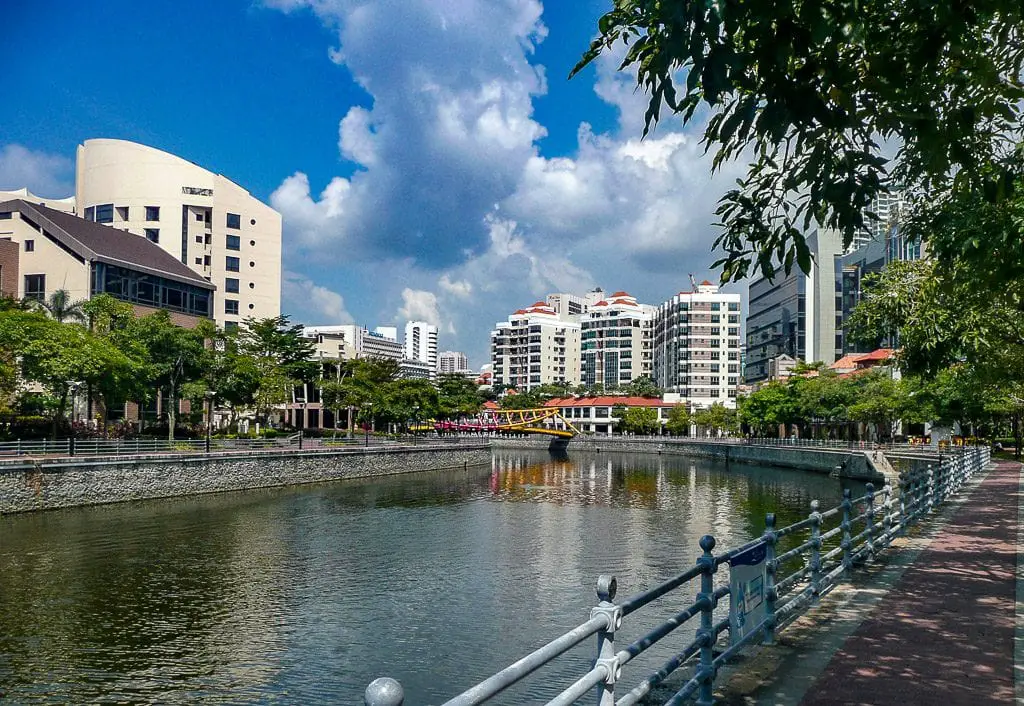 Strolling along the lovely Singapore River is a must for any visitor.  Clarke Quay is the premier nightlife destination in the city with a multitude of bars and restaurants along the riverbank.
Take a cruise down the historic Singapore River on a traditional bumboat.  Listen to the tales of Singapore's Boat Quay and Clarke Quay and enjoy the scenic views of the Marina Bay area as the boat cruises by.  It's the perfect way to enjoy a sunset!
Take a Guided Walking Tour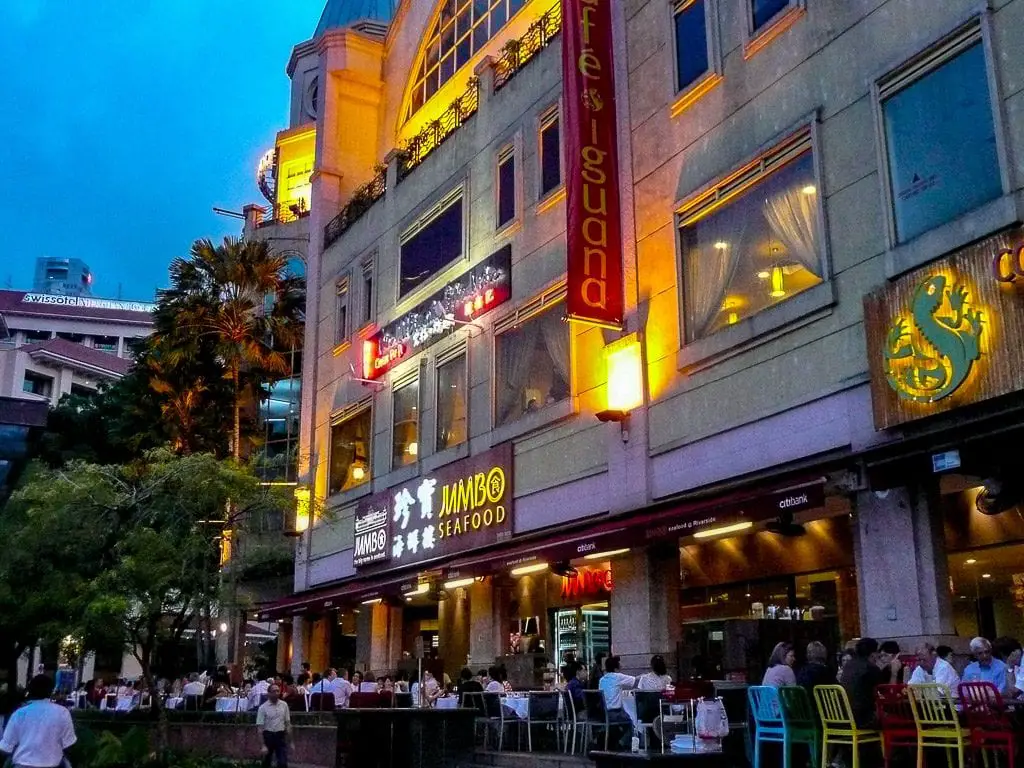 Walking tours are one of our favourite ways to get to know a new city when we travel.  Singapore has many tours on offer so choose one that interests.  Wander the city and learn from a local.
There are plenty of walking tours to choose from:
Try the walking tour through the historical Supreme Court and City Hall buildings, hosted by the National Gallery.
Explore each of the precincts – Chinatown, Little India, Clarke Quay, Changi Village and the East Coast.
The Aussie Mob experience:  The Chinatown Brothel Tour was great fun with the guide, a Singaporean national, walking us on a tour through the red light district of 'old' Singapore sharing the hidden secrets of Chinatown and it's seedy history.  This was definitely one of the most interesting tours I've ever done!
High-Tea at Raffles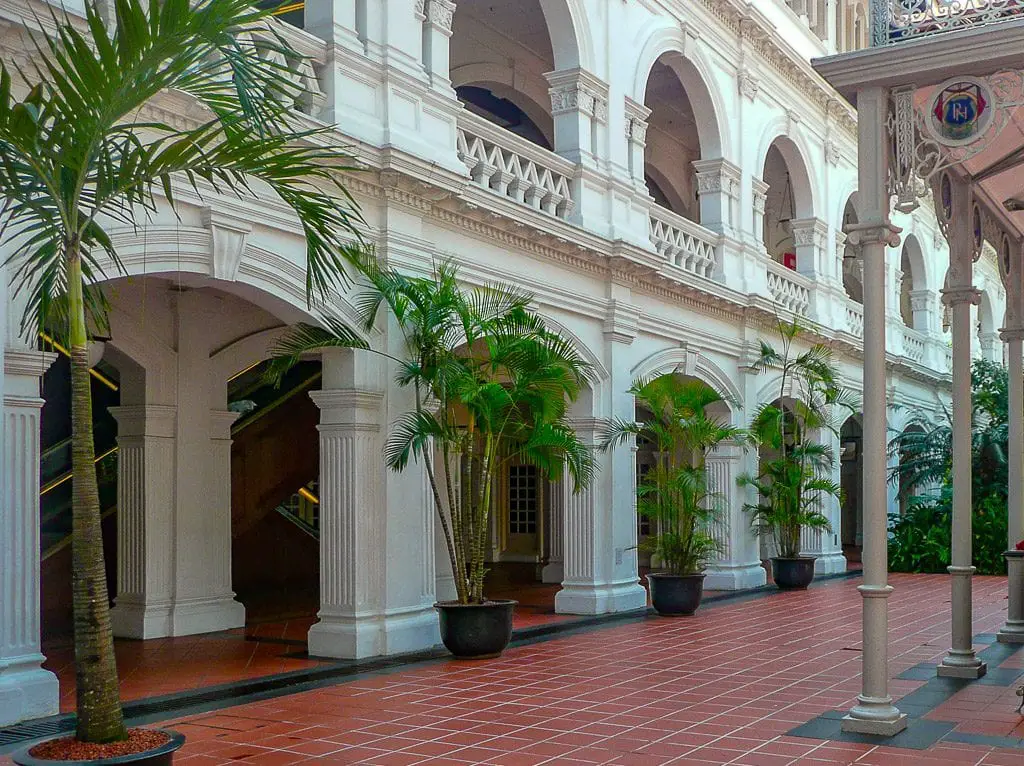 Raffles Singapore is a much loved Singaporean institution and part of the nation's cultural heritage'.  Sir Stamford Raffles founded Singapore in 1887.
Few visitors to Singapore can resist visiting the city's most famous heritage hotel, with its smartly-dressed Sikh doormen, tropical gardens and boutiques, illustrious history, and of course, the legendary Long Bar at Raffles.
Raffles has played host to the rich and famous, including Charlie Chaplin, Elizabeth Taylor and Karl Lagerfield and Hemingway.  One can't visit Singapore and not go to Raffles for 'High Tea' or a Singapore Sling!
Click here to find out how to stay at Raffles Singapore.
The Aussie Mob experience:
Dressed in full tourist rig, complete with sunhats and cameras, we wandered into the lobby of this majestic 'plantation style' hotel.   A smartly dressed doormen approached us quietly informing Trevor in a monotone statement, raising his eyebrow ever so slightly;  "Sir must be dressed in long trousers to enter the lobby at Raffles".
We headed back outside, stifling our laughter.
We got the message, loud and clear!  Sir, wasn't being served 'High Tea' today!
Walk along Marina Bay
Start your walk from the iconic Marina Bay Sands hotel, and walk alongside the Marina crossing the Helix Bridge.  You'll get excellent views of the Singapore skyline.
Head towards the Esplanade Bridge to view the famous Merlion statue (half-fish, half-lion).  The best time to go on this walk is during the evening Marina Bay Sands' sound and light show.
Ride the Singapore Flyer
The second-largest observation wheel in the world, the Singapore Flyer is a stunning part of Singapore's impressive skyline.   The Singapore Flyer takes you high above the city, offering sensational views of the Marina Bay, the skyscrapers, the river, the historic buildings of the Colonial District and ships on the South China Sea.
Explore the Marina Bay Sands
The eye-catching Marina Bay Sands is a massive hotel complex and one of Singapore's most popular attractions.
Marina Bay Sands is a destination in itself with plenty to do.  Shop at the exclusive mall beneath the hotel, dine in many exquisite restaurants, catch a popular musical at the MasterCard Theatre or check out the unique exhibitions at the waterfront ArtScience Museum.
One of the most popular attractions is the SkyPark Observation Deck providing incredible views over the city.  Don't miss the free sound-and-light extravaganza!
Dine out at the Hawker Centres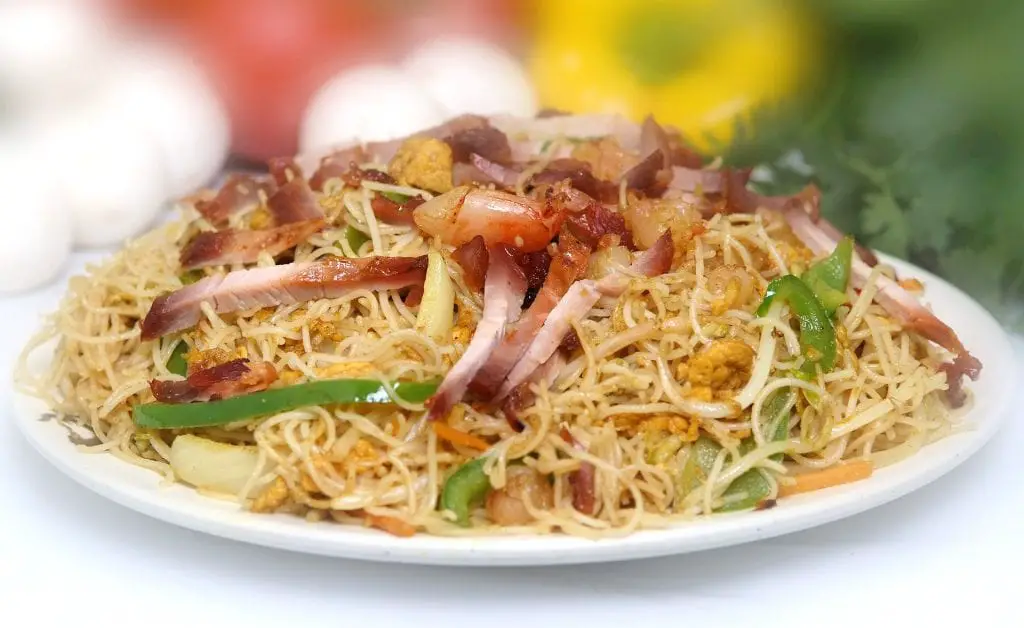 Singaporeans are serious about their food and you will find them eating out at hawker centres throughout the city.  Hawker Centres are a vibrant and quintessentially Singaporean experience.
Food courts serving Singapore's best street food can be found throughout the city.  You will find food courts serving anything from snacks to full meals.  Hawker centres tend to get packed, so to secure your seat at a canteen-style table, by placing a packet of tissues on it.
Coming soon:  Dine at the Best Hawker Centres in Singapore
Visit the Museums and Arts & Culture
The Arts Scene
Singapore has a growing art and theatre culture.  Celebrate with artists and creatives and attend the arts festivals like St Jerome's Laneway Festival, Neon Lights and the ultra Music Festival.  It's an experience for everyone!
The National Museum of Singapore
The National Museum of Singapore brings Singapore's rich history to life. Learn about Singapore's early beginnings when it was ruled by Malay sultans.  Follow change through years of British colonial rule to the metropolis of the present day.  If you only visit one museum in Singapore, make it this one.
Experience Changi Museum and Memorial
Thousands of people attended the ANZAC Day service at the War Memorial at Changi. Singaporeans, Australians, New Zealanders, war veterans and visitors gathered to pay their respects and share prayers.
World War II impacted on millions of people around the world.  The museum at Changi is a grim reminder of the atrocities that occurred during the Japanese occupation.  Changi Museum is an extraordinary tribute to the resilience of the prisoners-of-war and civilians who were interned.
As Australians, visiting Changi War Museum for the memorial service on ANZAC Day was a emotional experience for us both, and one we'll do again.
ANZAC Day is the memorial day for the Australian and New Zealand Army Corps – April 25th.  Usually there is a dawn service and a 9am service. 
5 Essentials to Pack for Singapore
Where to stay in Singapore
Want to stay somewhere special?   Click here to find out more about Marina Bay Sands, Raffles Singapore or Hotel Fort Canning.
Click here for a selection of accommodation styles for all tastes and budgets.  You'll be sure to find something to suit.
Getting to Singapore
By air:  Changi Airport consistently rated as one of the world's best.  Singapore is a major transit hub for travellers exploring Southeast Asia.
Most airlines fly into Changi Airport from Asian & other International destinations.  Check your favourite airlines to see if they connect through Singapore.
Customs processing usually quick and streamlined.
How to get from Changi Airport to the City
Getting into Singapore from Changi Airport is easy.  Take the free shuttle train to catch the MRT (Mass Rapid Transport) into the city centre, or pickup a taxi to your hotel.
Getting around the city
Like many cities in Asia, getting around Singapore is a breeze.  One of the most efficient rail systems in the world is the MRT.  This subway system is within walking distance of most of the city's top tourist destinations making sightseeing in Singapore easy.
What to do in Singapore.  Pin this for later.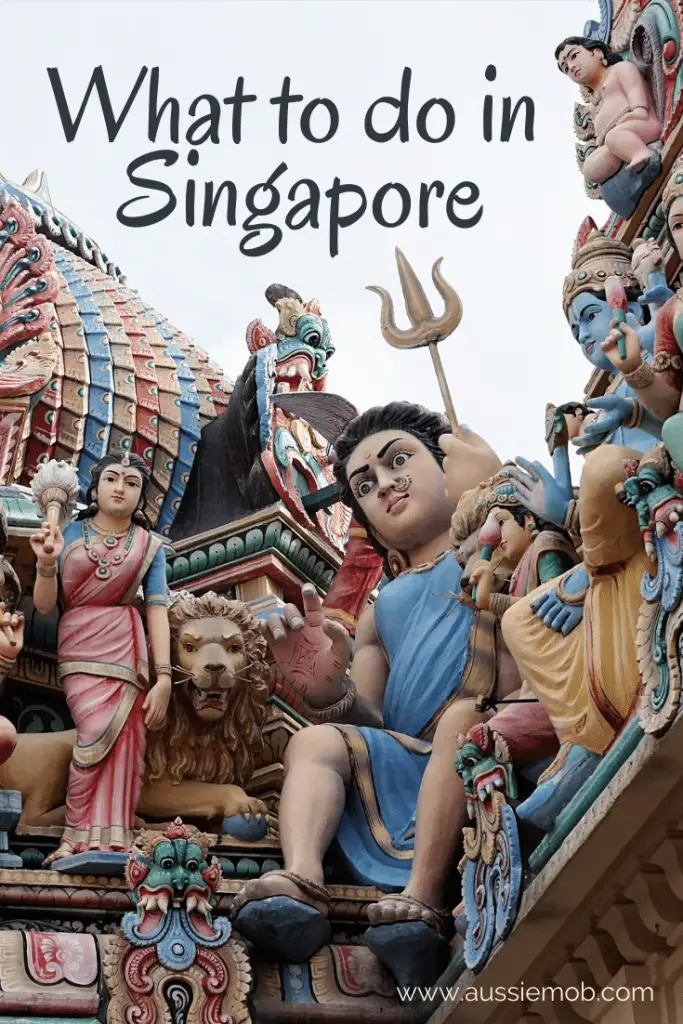 Singapore has always been one of my favourite cities!  With an amazing mix of culture, friendly people and amazing food it's a city that's always bubbling with energy.
There really is something for everyone and I can guarantee you will enjoy your visit!  Why should Singapore be your next travel destination?   Its simple: delicious food, superb shopping and fabulous sightseeing opportunities.
Have you ever been to Singapore?  What did you enjoy most when in Singapore?  I'd love to know your story.